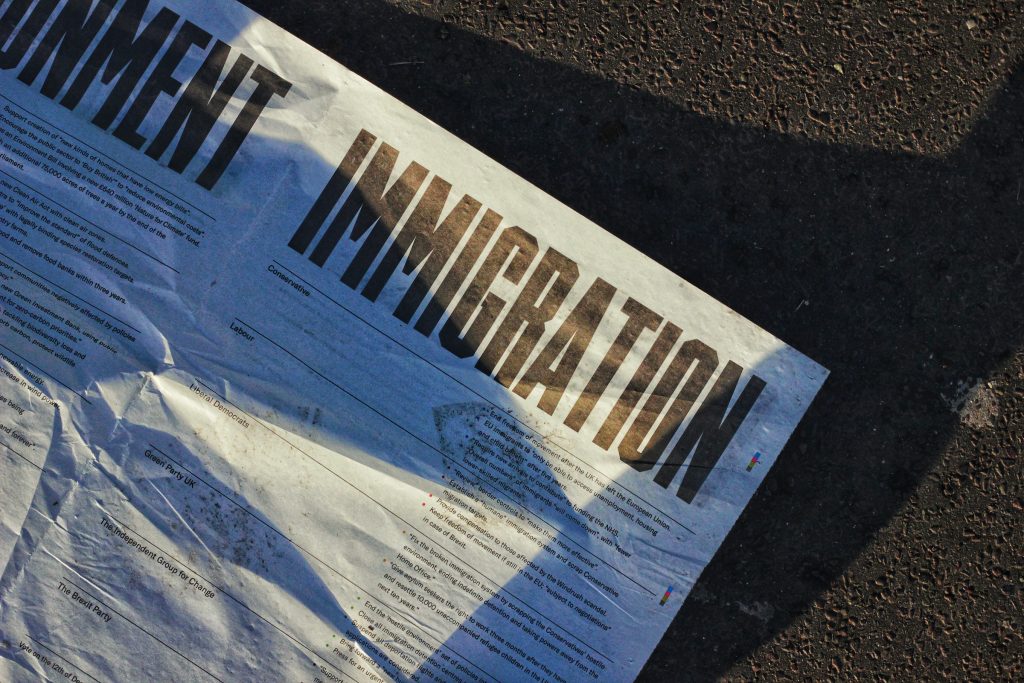 Fred*, a popular journalist with a collection of prestigious awards, has recently departed Nigeria, to begin a new chapter in the United Kingdom. His illustrious career path was paved through roles at esteemed national dailies such as Premium Times, as well as international publications like Al Jazeera. Fred also had a brief sting in the esteemed position of Senior Correspondent at Punch Newspapers. However, the tides of change dictated a poignant decision for Fred, one that would cause him to bid farewell to a flourishing career in Nigeria, and take up a customer service role in England's railway industry so he could be with his new family.
Fred's story is intertwined with those of his compatriots who sought greener pastures beyond their homeland. Diaspora Africa delves into their experiences, highlighting the tenacity and adaptability that defines the "Nigerian" spirit, even in the face of daunting immigration regulations and the throes of uncertainty.
To begin with, embarking on a journey away from the Nigerian shores presents a formidable challenge. This seemingly insurmountable endeavour remains arduous, regardless of the chosen destination's continent, whether within Africa or beyond. The current state of the Nigerian passport finds itself positioned at 91st position among the 199 countries and 227 travel destinations surveyed in the recently updated Henley Passport Index. In Africa, Nigeria finds itself perched near the bottom rungs. Recent data places the nation at the fifth lowest position within the echelons of African countries that boasts of visa-free travel access. This somewhat dismal ranking relegates Nigeria to a position just above a select group of nations marred by the relentless grip of extreme violence and turmoil.
Nigeria's placement might be seen as incongruent with its status as one of the continent's most populous and economically active nations. However, the reality remains stark, with only the Democratic Republic of Congo (DRC), Eritrea, Sudan, and Libya claiming positions further south in this list of limited mobility. The DRC, Eritrea, Sudan, and Libya stand as somber exemplars of nations grappling with upheaval. Their histories have been punctuated by violence and instability that have not only stymied their own citizens' aspirations but also cast a shadow on their international standing.
In scenarios where the vexing issue of passport credibility has been surmounted, the tenacious hurdle of stringent immigration laws endures. For example, Nigeria has recently entered into a pact with the United Kingdom, aimed at dissuading what is labeled as "unlawful" migration. This pact seeks to escalate the volume of deportations, particularly targeting individuals classified as international criminals. This category encompasses those who have gained entry through spurious documents, individuals whose visas have lapsed, or those who have engaged in fraudulent marriages to prolong their residency status.
The U.K. has also ushered in a new legislation, designed to curtail the number of dependents that international scholars can bring into the country. This development comes as calls for stricter immigration policies flood political discourse within the United States. These harsh realities, intricately interwoven with issues of racism, racial profiling, and xenophobic onslaughts, paint a complex tableau of challenges faced by migrants.
Immigration challenges, while difficult, often serve as a viable alternative for Africans pursuing better lives. Conflict and violence drive some to flee; ongoing conflicts and political instability create perilous environments that endanger individuals and families. Even in relatively peaceful areas, the quest for improved access to essentials pushes migration; scarcity of resources like food, water, and healthcare drives individuals to seek better conditions.
Additionally, migration becomes a lifeline for urgent medical needs; better healthcare resources and treatments motivate individuals to move, increasing their chances of survival, especially for complex health issues. Climate change's impact is equally significant; erratic weather, droughts, floods, and crop failures imperil livelihoods. In regions reliant on subsistence agriculture, climate change's toll forces migration as a means of escaping perilous environmental shifts. The pursuit of safer and more stable conditions gains urgency, particularly when lives and well-being hang in the balance.
"It has not been easy, especially as someone who has worked as a professional" Fred told Diaspora Africa in an interview.
"Many professionals here work factory or care jobs. It is difficult to just resume your career trajectory as you previously had it in your home country for several reasons which Although Fred currently holds a customer service position in the railway sector, he acknowledges that it pales in comparison to the comfort and recognition he enjoyed in his job back in Nigeria. Nonetheless, he maintains his commitment to his current roles, recognizing them as crucial stepping stones toward a more promising career trajectory in the United Kingdom. When asked whether he would have preferred to stay back in Nigeria, Fred simply said:in my case includes legitimate concerns."
"For instance, who would commission you to report stories in a society/setting where you have barely spent six months? So, one has to make do with available jobs which are primarily factory, care jobs, or security shifts," he added.
"I relocated due to family reasons. While I was thriving in Nigeria, my current situation isn't unfavorable either. However, being with family was my priority, so I don't dwell on whether I would have stayed or come here – the choice wasn't really available to me."
Similar to Fred, in February 2022, Kofoworola (surname withheld) resigned from her job as a nurse in Nigeria to practice in the U.K. For her, better career prospects and working conditions was a motivating factor.
"It was not easy with all the processing and eventual travel but I was determined to leave Nigeria," Kofoworola said. "There were many things to explore and I wanted to see what the working conditions were like and what career prospects could open up abroad compared to the unspeakable issues we go through here in Nigeria," she added.
Kofo says her integrating into the new environment has been tasking.
"Blending in has not been easy although I have advantages because I am like a government worker and previous preparations had major challenges taken care of but the truth is nothing could prepare you for life in a place that you are not used to," she added.
Razaq, 31, has lived in the United States for four years but things are just beginning to take shape for him. His journey has been markedly different from that of Kofo and Fred. A school teacher in Niger State, Nigeria, his sojourn in the U.S. has put him through various factory jobs and weathered a severe depression triggered by what he describes as a deep sense of isolation. Alongside this, he's experienced discrimination, grappled with homelessness, and faced hurdles in accessing essential social services. These challenges have led him to contemplate returning to Nigeria multiple times.
"Since I got here [United States], I have worked in an appliance assembling factory, I have worked as a labourer as well as a security guard," Razaq said.
"Things are opening up now, I guess. I have taken courses and attended some training that could reposition me for better opportunities," he added.
"I initially thought my NCE (Nigeria Certificate in Education – issued by Colleges of Education for trained teachers) would be sufficient to get me a teaching job so I could further my career but I discovered that the starting point here is a degree even before teacher certification," Razaq said.
As Fred and Razaq already discovered, one of the most significant hurdles immigrants face is the difficulty of immediately settling into one's chosen career path. Immigrants often find themselves having to navigate through a complex maze of certifications, licensing, qualifications and recognitions that vary from one country to another. The qualifications that held value in their home country might not be readily recognized or accepted in their new destination, forcing them to invest time, money, and effort in re-establishing their professional credentials.
Also, discrimination remains a pervasive issue that many immigrants grapple with. Whether it's due to cultural differences, language barriers, or simply a lack of familiarity with local customs, immigrants may find themselves on the receiving end of bias or prejudice. This discrimination can manifest in various ways, from subtle microaggressions to outright exclusion from opportunities. Such experiences not only impact their emotional well-being but can also hinder their integration into the broader society and workforce.
In the face of all these, Razaq and Kofo's journey serves as a compelling testament to the unwavering spirit of perseverance. In the face of daunting challenges, they forge ahead, navigating uncharted waters with a tenacity that resonates harmoniously with the vibrant hues of Ankara fabric. But their experiences also underscore the pressing need for immediate intervention in the pervasive issue of brain drain that exerts a crippling impact on the Nigerian economy.
The Talent Management Report, presented at the quarterly gathering of the Nigerian Human Resources Directors Network held in Lagos, revealed that a staggering 52 percent of Nigerian professionals are contemplating abandoning their current positions in favor of pursuing opportunities abroad. Among the most distressing departures is that of medical professionals. The Nigerian Association of Resident Doctors (NARD) disclosed that a disheartening exodus of around 2000 medical doctors occurred between 2021 and 2022. Even more alarming, an overwhelming nine out of every ten doctors are actively contemplating relinquishing their roles in their homeland to seek better prospects overseas. This situation not only exacerbates the already strained healthcare system but also casts a shadow over fields where readily available employers aren't readily accessible, as is the case for professionals like Fred.
Indeed, it's a prevailing belief that a substantial shift towards responsible governance could potentially offer a path of hope. With more responsible governance in place, there's the potential for a paradigm shift in the ease of access for Nigerian professionals seeking opportunities abroad. The narrative could transform from one of escaping unfavorable conditions to one of advancing careers. This would not only mitigate the strain on Nigeria's domestic workforce but also create a more constructive synergy between the nation's professionals and the opportunities that beckon abroad.

Writer: Ayoola Babalola
Editors: Chimee Adioha, Amaka Obioji
Illustrator: Zainab Iliyasu Bobi