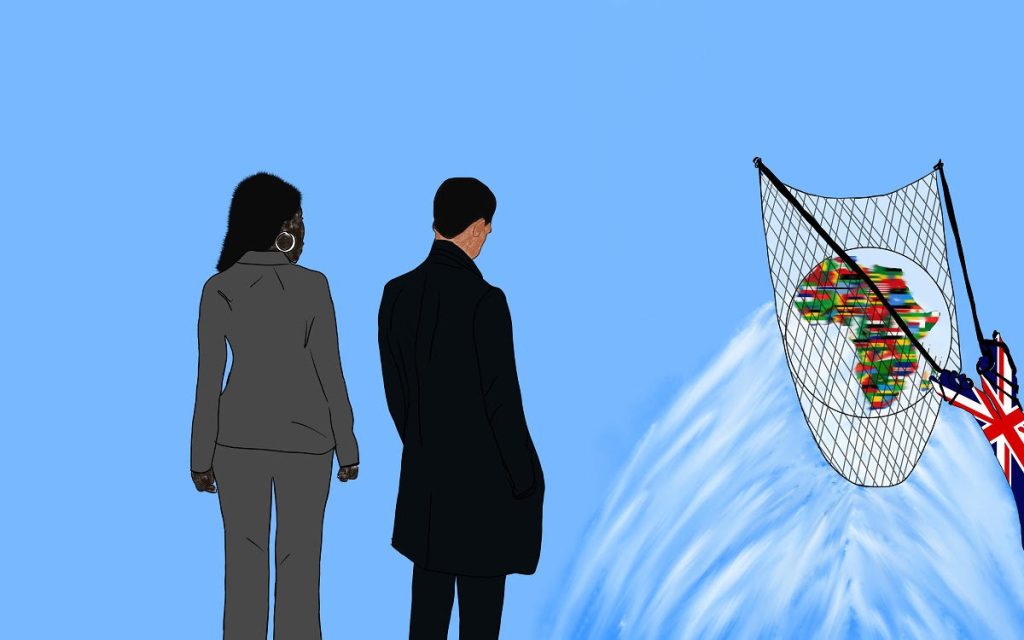 In February 2023, a Ghanaian nurse, Kojo* migrated to the United Kingdom. His decision to depart Ghana to the United Kingdom was to secure a better future for himself and his family. "I had heard about the higher wages and improved working conditions for healthcare professionals in the UK," he narrated. "I saw it as an opportunity to provide a more comfortable life for my loved ones back in Ghana."
As Kojo* tried to settle in the United Kingdom, he found it difficult to adapt to a new healthcare system. Among his nightmares is the feeling of homesickness. "Finding myself in a new environment that is far away from my family and the familiar surroundings of Ghana was emotionally challenging," he told Diaspora Africa.
Several weeks after his arrival, he met a community of Ghanaians in the city who sometimes made him feel like he was at home. Additionally, even with the rigorous daily routine Kojo* is experiencing, he never relents in reminding himself that the motivation behind his coming to the United Kingdom is to provide a better life for his family. That sense of purpose makes him committed to the job and with the hope that one day, he will have the means to bring his family to live with him there.
The National Health Service (NHS) in the United Kingdom has since the pandemic been facing staff shortages which seems to be the sector's greatest workforce crisis in history.
The Office for National Statistics (ONS) estimated that vacancies in the United Kingdom's health and social care sector rose to 217,000 between July and September 2022.
In some parts of the United Kingdom like England, the NHS relies on immigrant staff from non-UK and non-EU countries to increase its clinical workforce.
While the United Kingdom keeps fishing for healthcare professionals from across the globe, African healthcare professionals are departing their home countries to tap into these opportunities abroad.
A report stated that in 2022, more than 1,200 Ghanaian nurses have joined the United Kingdom's nursing register.
Ghana's healthcare system is now confronted with challenges as a result of losing thousands of specialist nurses who emigrated to seek higher-earning prospects in the United Kingdom.
This situation comes with severe consequences, putting the regional hospitals in the country into crisis as they could no longer bring in more patients due to the staff shortages. In some instances, patients may have to wait longer before being attended to.
Ghana is included among the 55 vulnerable countries with poor numbers of nurses per head of population, according to the World Health Organization.
However, Ghana isn't alone. In neighbouring Nigeria, the desperation of medical doctors moving for greener pastures leaves a huge gap and significant challenge in the country's healthcare system. This has been an issue of concern to the Nigerian health authorities seeing the mass exodus of their health staff migrating abroad.
Chidinma* is one among many Nigerians threading this path. One morning in November 2022 when her flight landed at the Heathrow Airport in London, she knew that she was on to a new beginning.
Earlier in 2019, after graduating from Nnamdi Azikiwe University, she decided to leave Nigeria and start a new life as a medical practitioner in the United Kingdom.
The young and vibrant medical doctor who hails from Nigeria's Anambra State had long anticipated this moment.
"I decided to leave for the UK for better pay," she said. "I also feel that it will be more comfortable there for me and my family to build a quality lifestyle."
Before Chidinma* sat for the United Kingdom's medical profession exams, she was working at the Nnamdi Azikiwe University Teaching Hospital, but along the line, she felt medical practice in Nigeria wasn't as fulfilling as she expected.
The lack of world-class infrastructure at hospitals across the country frustrated her and these experiences also prepared her mind to leave, so she took the exams and passed.
"After passing the exams, I was registered and licensed to practice the medical profession in the UK," Chidinma told Diaspora Africa. "I left because I wanted more. I didn't want to only read of and hear of life-changing medical procedures and world-class structures. I wanted to have a real experience with them as well."
According to the Nigerian Medical Association, of the 75,000 Nigerian doctors registered with the association, more than 33,000 have already left the country, with only 42,000 to take care of more than 200 million people. A report shows that the doctors' emigration has left the country with only four doctors for every 10,000 patients.
Aminu* is another Nigerian healthcare staff working in a London hospital. He also shared the same sentiment with Chidinma*, admitting that better pay and world-class medical facilities are the motivation behind his migration.
The 31-year-old grew up in a humble family in Kaduna, northwestern Nigeria. He saw the chance of migrating to the United Kingdom after he graduated from the Ahmadu Bello University in Zaria.
"After completing my studies, I was privileged to sit for an exam which I passed. That made me eligible to get a working visa and I moved to practice this revered profession of ours in the UK. It was an incredible opportunity that I couldn't pass on," said Aminu*
When Aminu* landed at Heathrow Airport, he was nuanced in excitement and nervousness. Everything looked new to him, but since he was eager to fashion his medical career in a developed country like England, he felt relieved and moved his luggage for screening.
For Aminu* discrimination wasn't something he expected at the airport because he had all the necessary documents to be presented for the screening. Unfortunately, he encountered an immigration staff who instead of offering a warm welcome, subjected him to humiliating questioning and lengthy scrutiny.
"Some staff at the airport dragged me out of the queue and began questioning me. Honestly, it surprised me. I asked why they would not allow me to be screened like every person in the queue. They said I should shut up and present my documents which I did. They kept charging my luggage too. They wasted much of my time there," Aminu* recalled.
This particular experience made Aminu* feel discriminated against and unsure about what would happen next if he got to meet these sorts of people again in the streets.
Chidinma* also grappled with challenges from the airport to her residence because she was pregnant during her emigration. "I went there without my family. I struggled to be comfortable alone that I even considered going back home," she stressed. However, Chidinma* expressed that life abroad is distinct from the one at home.
She continues, "It can be lonely if one lives there without having family and friends around."
Aminu* also felt strange and lonely during his first week. "I missed my family and of course the local cuisines we used to eat back home," he said.
Chidinma* has overcome her loneliness after delving into work in an Emergency Department. "I wouldn't like to state the name of my hospital," she stated. "The money you get here consoles you and makes the loneliness bearable. Plus my partner is very supportive. He was there for me during those challenging times."
The 28-year-old's typical day at work is always engaging. She attends to several emergencies that include road traffic accidents and stab wounds.
"The work environment is also friendly. Unlike in Nigeria where my experience was that of seeing your senior colleagues as deities, the situation is different over here. We relate with consultants like they are our friends. It's nice," she noted.
Chidinma* also explained to Diaspora Africa, "I feel like most doctors who trained in Nigeria have the notion that they want to care for their fellow Nigerians. There's an inner joy from knowing you are giving back to the society where you were 'made' from. But our hospitals are run down with little or no infrastructure. It makes it hard to provide the care you would wish you could. We learn how to save lives and we find our hands tied because of the poor state of the healthcare system."
Aminu* who migrated in June 2021, confessed that in coping with his loneliness and taste for local cuisines from Nigeria, he tried to keep in touch with his family through phone calls during his leisure hours. A few months after he arrived in London, he met a journalist from northern Nigeria who has since been helping him get the local cuisines. His daily routine commences during early morning hours in a Paediatrics Department filled with high workloads.
Even though Aminu* takes pride in his professional work, he felt the England Health Service landscape is bounded by its own set of challenges. Starting from the high workloads to minimal mental health care support for staff. "The compensation and benefits are reasonable here but I feel there should be room for improvement considering the demands and responsibilities of the work," Aminu* demanded.
On the other hand, Chidinma* believes the level at which the residents there accommodate immigrant workers isn't sufficient. She emphasized that the level of immigrant incorporation even at workplaces should be raised, so they could settle without challenges. "I think it can be better. I know some of my colleagues who also struggled to settle in initially when they migrated," she said.
Initially, both Chidinma* and Aminu* faced difficulty in communicating with the residents due to the distinction of accent, but they are now overcoming it, one conversation at a time.
The United Kingdom's National Health Service (NHS) dependency on healthcare staff from non-EU countries doesn't seem to be ending soon, because Ghana and Nigeria are just a few among the African countries suffering the impact.
Despite the World Health Organization including Nigeria and Ghana among the updated list of countries with severe health workforce shortages and shouldn't be targeted for international recruitment–the United Kingdom is still fishing healthcare professionals in these countries in numbers.
However, the code of practice for international recruitment explains that in cases where a government-to-government agreement is made and signed by the Department of Health and Social Care (DHSC) on behalf of the United Kingdom government, such recruitment can take place based on the provisions of the agreement.
Chidinma* swore not to forget the day a patient was admitted to the Emergency Department of her workplace. "I went to treat the patient but he stood up saying that he won't allow me to touch him because I'm black," she sadly said. The experience is still haunting her as she continues to work there. But she isn't giving up. "I always think about the money and benefits. Compared to what is attainable in Nigeria, I feel it's more rewarding here in the UK," she stressed.
Today, she is working towards balancing the medical profession and her family life by embracing every day as it comes and managing her time effectively.
For Kojo* who still yearns to return to Ghana in the future–his dream is simple yet profound. "I hope to utilize my experiences and knowledge in improving the healthcare system back home."
As Aminu* strives for a fulfilling career, he is demanding inclusion, cultural understanding, and respect for immigrants both in his workplace and the city where he resides.
Medical doctors and nurses are leaving their countries every day for better remuneration and working conditions in developed nations. Brain drain is tagged as the leading factor that is taking away professionals like Kojo*, Chidinma*, and Aminu* from Africa.
For a developing country like Nigeria, this is a major threat to its health system. Statistics show that among the Nigerian healthcare professionals willing to practice in foreign countries, about 66.3% were due to poor financial incentives/working environment, 46.5% due to insecurity, and 38% due to inter-professional rivalry in the health sector.
According to the General Medical Council of the United Kingdom, Nigeria currently sits among the top three countries with the highest number of foreign doctors working in the United Kingdom. As of November 2021, there were 8,983 Nigerian-trained doctors working there.
As this trend continues, there is a critical need for governments in Nigeria and other parts of Africa to charge their responsibilities effectively in addressing the factors causing the emigration.
Retaining these professionals and improving the healthcare system of African countries require genuine efforts and adequate funding.
A Nigerian resident doctor in Abuja (name withheld) said that the healthcare system in the country is facing a critical challenge.
"To address this, the government must renew its steps by increasing doctors' salaries and benefits to be competitive with international standards," he emphasized. "Reducing bureaucracy, improving working conditions, and maintaining conducive working environments would make practising medicine in Nigeria more attractive."
As this emigration continues, James*, a retired medical doctor from the United Kingdom's National Health Service highlighted that even with better earnings, African professionals should be aware of other shortcomings.
"The journey to overseas isn't always easy to navigate through. It's surrounded by racial discrimination and abuse of rights. I worked there for more than a decade before coming back to Nigeria, I know what I'm saying. So young professionals should know the steps they are taking," he warned.
Writer: Yahuza Bawage
Editors: Chimee Adioha; Amaka Obioji
Art: Zainab Iliyasu